Measuring Website Success: A Balanced Approach
When someone asks what the goal of your website is, what do you say? How do you know it is successful? Let's figure out a way to answer these questions and back them up with data.
It's not a rhetorical question, I love hearing your takes. I've asked the question hundreds of times. Most of our clients have very specific goals for their websites. But a website owner's goals and a website user's goals are not necessarily the same. 
Our mission as an agency is to understand what website visitors want and make sure that it is aligned with what our clients are looking for, before we start building. That led us to explore personalisation and other endeavours we focus on. Website visitors want many different things from the same site, and a smart website can do that!
It's easier to start with high-level objectives. Many businesses are focused on conversions, such as lead capture or purchase. Other companies' websites are more focused on branding. Government organisations are providing information as a service. There isn't any single correct answer, but it is important to align with what your users want, even if you aren't speaking the same language. Here is an example:
Website user's goals
Website owner's goals

"To get an answer to a question"

"To take the steps necessary to register, purchase or complete a task"

"To compare your services to the competition"

"Easily obtain products, services, or information"




Category: Usability

"To understand something and determine my actions"

"To validate what I think or have heard about something"

"To express my opinion about something"

"Encourage dialogue, participation and community"




Category: Engagement
Once we have alignment, we look for metrics that tell us if users are leaving the site with what they came to get, be it information about a service, a product, or an appointment. In this case, "encouraging dialogue" in the bottom right square can be measured via inbound email, form submission, event registration, AND social engagement. The important concept here is a capitalised "AND." We want to measure from different angles to get a clearer picture.
Balanced Scorecards
One of the problems with measuring success across a website is complexity. "One KPI to rule them all" isn't enough. As discovered by the telesales industry, when you focus on one KPI, such as most calls per hour, that KPI always goes up, and not always for the right reason. Any single metric is too one-dimensional and specific to be adopted by an organisation and often too general to be actionable. 
This is why we recommend a balanced scorecard approach.
A Balanced Scorecard is a strategic tool that is used to measure and monitor the performance of an organisation or a business unit across multiple metrics. It groups several objectives spanning different perspectives, then normalises and weights each according to the organisation's priorities and values.
These scorecards help align strategy with its operations and provide a comprehensive view of its performance across different financial, customer, and internal processes, and learning and growth perspectives. It is also easy to adjust and adapt, meaning it lives longer as a single measurement tool.
Metrics that Belong in Your Web Portfolio Scorecard
User Metrics: This perspective measures how well the website is meeting the needs and expectations of its visitors, including customer satisfaction, user experience, and customer retention. These are tied to the specific goals of the website and include:
Website usability: these measure the effectiveness of a website in terms of how easily users can navigate it, find the information they need, and complete the desired actions. Common usability metrics include bounce rate, time on site, and return visits. 
Task completion rate: The percentage of users who are able to complete a specific task on the website, such as finding a product or locating contact information.
Conversion rate: The percentage of users who complete a desired action, such as making a purchase or filling out a form. A low conversion rate could indicate that the website is difficult to use or that the CTAs are not clear.
That might look something like this: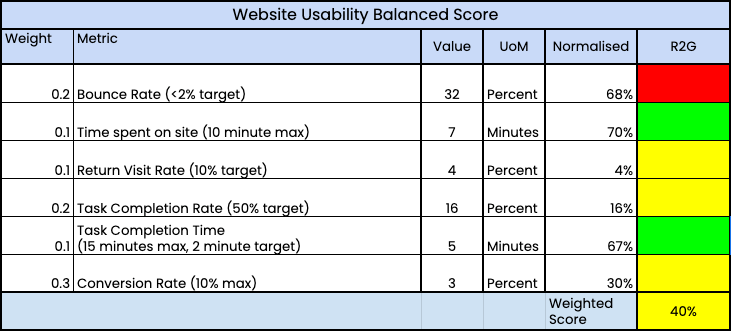 In this example, we are putting more weight into Conversion Rate (aka "paying da billz"), Bounce Rate, Task and Completion Rate. But we are not discounting other important metrics. We can see where improvement is needed. And we are getting an objective total score.
Balanced Scorecards should include metrics across other dimensions:
Financial Metrics: This perspective measures the financial performance of the website, including revenue, cost per acquisition, and return on investment (ROI) for digital marketing campaigns.
Operational Metrics: This perspective should also include the efficiency and effectiveness of the website's overall health, including website page load time, error rates and uptime.
Internal Process Metrics: This is a measure of how regularly content is being pushed, how often updates are being run, and how quickly website changes are being deployed. Websites boost the odds of breakthrough results when built in environments that allow for trying new things, measuring the results and iterating.
With balanced scorecards, an organisation can easily provide a comprehensive view of website and organisational performance across different perspectives. This can provide quick insights to align their strategy with their operations across teams. This helps define team impact and drives continuous improvement.