The Economic Upside of Drupal
During economic challenges, open-source CMS like Drupal emerge as adaptive tools, offering customisation and scalability. Let's dive into why Morpht believes Drupal is an organisation's most flexible secret weapon.
Web teams and marketing teams are smart. They consistently look for adaptive solutions to content management. While plenty of content management systems are available, they broadly fall into two categories: open source and proprietary.
Here's a perspective that advocates of open source often hesitate to discuss, but it is essential in the buyer's consideration process: during downturns or tough economic times, the Total Cost of Ownership of open-source CMS can be a lifesaver.
Understanding the TCO of your website
The Total Cost of Ownership isn't just about the initial outlay or the license fee for a piece of software. It includes the cost of installation, customisation, training, maintenance, upgrades, and any additional costs that might arise during its usage. 
In the open source ecosystem, we strongly ask/urge/beg/insist our clients build in contributing back to the Drupal project and community as "part of the deal" you get with essentially a free foundation to base your websites on.
Navigating Economic Downturns
During challenging economic times, every marketing dollar spent matters. According to Chiefmartech.com in their 2023 Martech Replacement Survey, survey results seem to prove this. 
Comparing 2020 to this year's results, CMS systems were being replaced at 41% in 2020 versus just 11% in this year's survey. This gap is larger than any other component in the typical martech stack.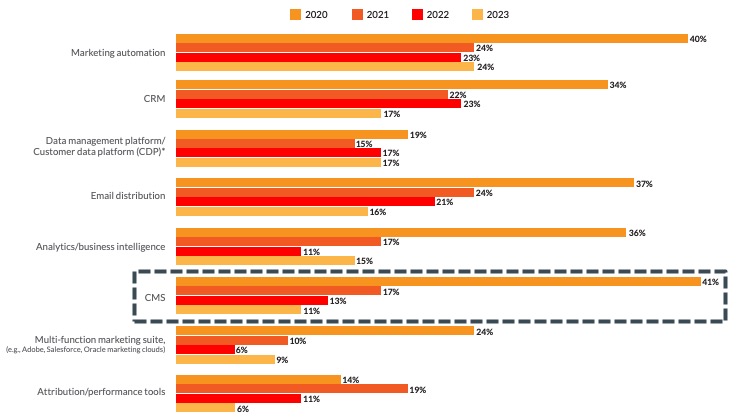 If a company has invested in open source, website spend is one of the few levers that can be pulled in a downturn, and that lever largely goes away with proprietary solutions.
The intrinsic flexibility of Drupal and other OS solutions allows businesses to adapt their expenses to their current reality:
Scale down on custom development and third-party integrations without any contractual penalties.
Reduce your website's hosting based on traffic without worrying about different pricing tiers.
Use Drupal's low barrier to entry to power fast experimentation and campaigns, without contractual obligations or vendor negotiations
The Flexibility of Open Source CMS
Drupal, Morpht's open-source CMS of choice, can be downloaded and customized by anyone. This openness translates to a range of economical benefits:
No Licensing Fees: Drupal is free to use. You aren't tied down to licensing fees, which can become burdensome during lean times.
Customisation at Will: With Drupal, you only pay for the implementation of the features you need. If times are good, you can be a mad scientist. If times are tough, you can scale back without any penalty. If times are bleak, it's essentially possible to scale your web costs to near zero.
Wider Talent Pool: A vast community backs Drupal, leading to a large talent pool. This means competitive pricing and choices abound when hiring developers or agencies.
The Inflexibility of Proprietary CMS
Proprietary CMS solutions come with inherent limitations:
Licensing Fees Always Rise, Never Fall: Regardless of any economic struggles, licensing fees rarely remain even flat: they rise according to the vendor's renewal strategy.
Limited Customization or Roadmap Input: Often, proprietary solutions come with set features. Removing or adding can be expensive or sometimes impossible. 
Vendor Lock-in: You're largely at the mercy of the vendor's pricing structure, feature releases, and timelines.
To be clear, there are some amazing, well integrated features in proprietary CMS. Whether they work for your organization's goals or not, you are paying for them.
An Open Source CMS is an Organisation's Most Agile Tool
Open-source and proprietary CMS each have their own advantages. You must weigh all options when making a choice, and TCO is crucial to consider.
We choose to use Drupal as the start state for our customers for many reasons. One of them is because of the economic flexibility clients enjoy over the lifetime of a website. In unpredictable times, having control over costs can be the difference between sink or swim.
About
Authored by
Head of Product and Marketing
Scott Massey is a Silicon Valley veteran and is the Head of Product and Marketing at Morpht.